TPX 6113
TPX 6113 used cylinder boring machine
TPX 6113 used cylinder boring machine
3. Machine Tool Introduction:

Series of T69/ TK69 digital display/CNC floor-type milling/boring machine is a kind of efficient advanced equipment with excellent properties, wide range of process scope, which can completely replace the double housing planer and landing boring machine.

This series of machine tools can be clamped in a large heavy work pieces and complete all kinds of drilling and milling boring machining. The plane and curved surface can be processed.

This series of machine tool is of a good rigidity, high precision, strong versatility, especially equipped with many kinds of special accessories (universal milling head, vertical milling head, elongation milling head, high-speed milling head, angular milling head, d-post rotary table, etc.) to further expand its application range.

5. The Main Structural Features:

1. Main transmission:
The main transmission of this boring and milling head adopts the square ram portable structure level and is one of the core parts of this machine. 2 the transmission system

2.Machine tool main drive:

Machine tool main drive by mechanical variable speed motor and speed regulating electrical appliances can obtain 2-560 - r/min1000 r (optional) the infinite speed range to meet the needs of various machining

3. Bearing:

Spindle bearing spindle system is the key components of the imported special customized bearings

Other bearings with name brand manufacturers products

4. The transmission structure:

X axis traverse by eliminating gaps for the double pinion and rack structure of the whole feed structure in a slide in the body and therefore good rigidity and transmission can be eliminate the clearance adjusting

Spindle box vertical feed (Y) with ball screw pair drive screw fixation in the first column on the feed motor through slow down gear drives the rotating spindle box to get the vertical feed

Z axis W axis driving principle of the ball screw vice same as Y-axis

5. Hydraulic and lubrication system:

Columns (X axis) mobile adopts hydrostatic slide friction coefficient is small

X Y Z axis of the guide surface are stick to plastic processing machine tool guide rail protection

Key components of the hydraulic system pump hydraulic valve parts were picked from domestic famous manufacturers of products with reliable work stability

Pillar square ram guide are adopted the measures to prevent oil spills

6. Locking and positioning:

X Y W axes have separate automatic locking mechanism locking mechanism and precession electrical interlocking

7. Parts:

Machine tool pillar spindle box of lathe bed square ram, etc big adopt high quality cast iron manufacturing integral rigidity and good seismic performance of shock absorption

8. Precision compensation system:

TK69 CNC floor-type boring and milling machine series adopts automatic gravity compensation system to ensure the balance of spindle box body and prevent slippery pillow moved forward when the main spindle box focus changes and make the spindle head

9. Guide:

Former pillar traverse spindle box for vertical feed and ram the axial feed adopts the static pressure guide rail machine precision has good damping shock absorption effect to keep good long life high reliability

10. Protective device:

The machine adopts the overall protective set spindle box adopts processing center type integral protection

Square ram with fixed protective cover at the back of the pillar bed way scalability protective cover can prevent contamination of guide rail damage and pollution

11. Platform:

At the side of the spindle box is equipped with the operating table walk along with the spindle box and move up and down movement also stood with mobile and mobile to achieve the purpose of convenient operation

12. Control station:

Machine adopt the way of catwalk centralized control button station operating hand-held unit is available in a wide range of mobile in order to achieve the purpose of convenient operation

6.Work Condition:


7.. Machine Standard Configuration:


8..Main Parts List: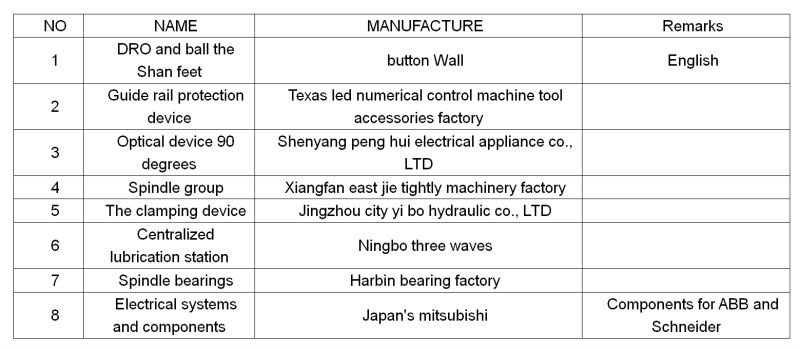 9..Accessories List: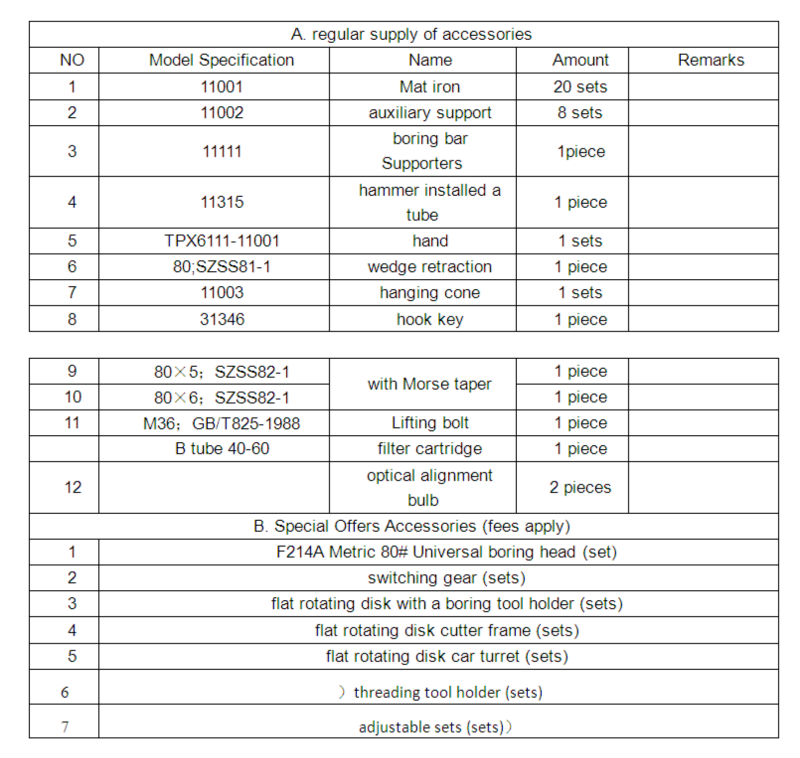 10. With Customers:

The Packaging Requirements of the Machine:

Machine packaging: JB/T8356.1-96 requirements.

11.After-sales Service and Commitment to Quality:

a. The date of final acceptance of the machine, the vendor of the product free of charge three packs a year (the buyer causes damage will be charged the cost of).

b. Machine fails, the user information of the seller can accurately determine the cause of the malfunction and treatment measures, given immediately reply sent to the scene to deal with such as could not determine the cause, within 48 hours, to solve the failure so far.

Send Inquiry Here to Get a Free Work-piece Sample!
Who Is DRC?
DRC is a group company ,which is professional in products and sales of advanced CNC machine tools . Acting full operation of the six machine tool production company's overseas sales.
DRC is located in Dalian, which is one of the largest seaport cities of China.Our products exported to Russia, Dubai, Hungary, Italy, Argentina, the Philippines, India, Iran, more than 50 countries.
DRC has six factories in China, which covers many kinds of mechanical equipment.
Product Range:
CNC Lathe
Conventional Lathe,
Vertical Lathe
Machining Center

Wheel Repair CNC Lathe

Planer & Slotting Machines

Machine Accessories
Boring and Milling Machine

Laser Cutting Machine
Dental Milling Machine
Glass Tempering Furnace
Special Machine for Pipe Threading ,Valve Milling, End Facing Machine and so on



The main technical parameters (standard):

Specifications


Unit


TPX6111


TPX6111A


TPX6113


TPX6113A


TPX6113A/2


Spindle diameter


mm


110


110


130


130


130


Spindle Taper


Morse No.6


Morse No.6


Metric 80


Metric 80


Metric 80


(7:24 No50)


(7:24 No50)


(7:24 No50)


(7:24 No50)


(7:24 No50)


Speed range of spindle


r/min


8-1000


8-1000


4-800


4-800


4-800


Power of main motor


kw


7.5


7.5


15


15


15


Facing head diameter


mm


600


600


750


750


750


Table size(L*W)


mm


1140*1000


1140*1000


1600*1400


1600*1400


1800*1600


Max. load of table


kg


2500


2500


8000


8000


8000


X-axis travel


mm


1000


1350


1600


2000


2000


Y-axis travel


mm


1000


1000


1500


1800


2000


Z-axis travel


mm


1000


1000


1500


1500


1500


W-axis travel


mm


600


600


900


900


9000


U-axis travel(Slide of facing head travel)


mm


180


180


250


250


250


B-axis angulationgs


degree


360


360


360


360


360


Rapid travel(X/Y/Z)


mm/min


2500


2500


2500


2500


2500


B-axis measurement system reading precision


degree


0.001


0.001


0.001


0.001


0.001