CK6180A
DRC CNC Lathe CK6180A Servo Motor High Precision Fanuc CNC Turning Lathe Machine
DRC CNC Lathe CK6180A Servo Motor High Precision Fanuc CNC Turning Lathe Machine
1.Company Introduction:
We are one of the leading machinery group specializing in producing heavy duty machine tools, it have five factories in China which mainly produce Vertical Lathe, Boring & Milling Machine, Heavy-duty Horizontal Lathe, both conventional and CNC types.

We have a group of professional engineers in charge of technology, manufacturing, installing and testing, so we can guarantee that our machines will put on good performance based on high quality.

2.Export Market:

Our products have been exported to more than 60 countries such as Canada, the U.S.A., Italy, France, Brazil, Bolivia, Chile, Russia, Romania, Saudi Arabia, Syria, Jordan, the U.A.E., Indonesia, Singapore, Thailand, India, Pakistan, South Africa, Egypt, Nigeria, Kenya and so on.

3.Our Belief:

We do believe we can create a win-win situation for both sides as long as we have come to a cooperation consensus. "Together we stand still, Divided we fall" this is what we treat our partners. Clients from all over the world are warmly welcome to build business relations, cooperate and develop together with us. Please feel free to contact us for details.

4.Product Introduction:

CKA series CNC lathes are designed with FANUC, SIEMENS, FAGOR, Dalian CNC and other CNC systems of the famous companies. The machines can work in the form of multiple replication cycling. As the general type, these machines can be used for the semi-finishing and finish machining of many kinds of spindles and disc parts. Besides, inside & outside ferrous, conical face, head face, grooving, chamfering, screw thread boring hole, reaming hole and all kinds of curve axially symmetrical.

5.Features:

1. The machine is designed with horizontal type, good sealing and safety standards. The basic parts like bed and leg of the machine adopts resin sand casting, artificial aging dealing which ensure the good stability

2. The machine works in high precision and longtime service by international highfrequencyquench.

3. Through famous CNC system, the machine has nice function, high precision and reliability.

4. By finite-element analysis, the headstock has developed &reasonable structure and strong pertinence. The supporting spindle use bearing and has the features of fast speed, high rigidity, nice accuracy, steady movement and low noise.

5. By designing with the ergonomics, the operating box can be set in rotating style, which makes it easy to operate for worker.

6. The machine can be lubricated by the centralizing system under scheduled time and quantity.

6. Main Parts: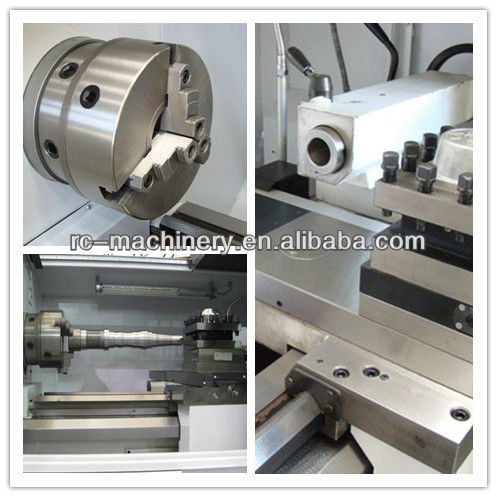 Standard configuration:
1.CNC system:Fanuc,
2.Manual chuck ,
3.Manual tailstock,
4.Vertical four-station electric turret,
5.Automatic lubrication system,
6.Turning the cooling system.
7.Machine casing is full protection
Select configure
1.CNC system: GSK, Siemens, Fanuc, etc.,
2.Servo main motor,
3.Hydraulic chuck (solid and hollow), pneumatic chuck, manual collet, pneumatic collet;
4.Hydraulic tailstock, pneumatic tailstock,
5.Automatic feeder,

7. The Figure of CKA61100A: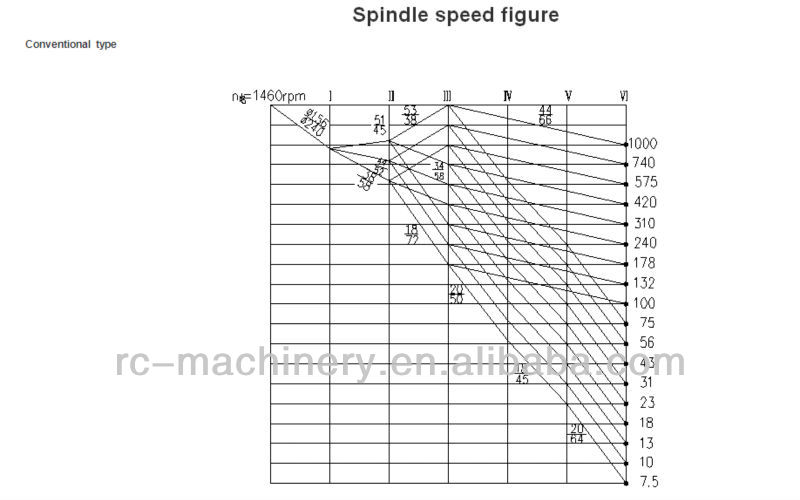 Index


Unit


CKA6I63A/6180A/61100A


Max swing diameter over bed


mm


630/800/1000


Max work piece length


mm


1000/1500/2000/3000/4000/5000


Max machining length


mm


Vertical 4 station 785/1245/1845/2745/3785/4745


Horizontal 6 or 8 station


690/1140/1740/2640/3660/4640


Max machining diameter


mm


Vertical 4 station 630/800/1000


Horizontal 6 station 570/570/570


Horizontal 8 station 620/620/580


Bed guide way width


mm


550


Spindle bore diameter


mm


110


Spindle taper





Metric 120


Spindle head





A2-6


Tailstock sleeve diameter


mm


100


Tailstock sleeve travel


mm


240


X cutting force


N


2500


Z cutting force


N


5000


Horizontal quick feed


Mm/min


6000


Vertical quick feed


Mm/min


10000


Location accuracy


mm


X 0.03 Z 0.04/0.045/0.050


Machine size(L*W*H)


mm


For 630 and 800 type


3455*2020*1805(1000)


3905*2020*1805(1500)


4505*2020*1805(2000)


5405*2020*1805(3000)


6455*2020*1805(4000)


7535*2020*1805(5000)


For 1000 type


3455*2020*2000(1000)


3905*2020*2000(1500)


4505*2020*2000(2000)


5405*2020*2000(3000)


6455*2020*2000(4000)


7535*2020*2000(5000)


Machine weight


kg


For 630 type 4800/5100/5600/5900/7100/8100


For 800 type 5300/5600/6100/6400/7600/8600


For 1000type 5600/6000/6500/6800/8200/9200